S3EP12: Summer 2019 Celebration ft. Josiah Asare & Isis Williams
Wassup ºF-TV family!
I hope you all are in good spirits! It's finally #Summer2019 and this season, I really wanted to celebrate BIG by having our first ever, LIVE audience!
From a producers perspective, this is an exciting idea but required a whole lot of extra work! From finding dancers (shoutout to DJ Lady Ly for your help with this) to designing the studio with signs I painted myself, to discovering fun and affordable props at the Dollar Store, all of the work involved in this production was made with love. Plus, life isn't as exciting if you don't try something new so I am so beyond happy and grateful that the show was an EPIC success!
This Summer, I wanted to invite another young soul to join me as my guest co-host and I was so lucky to come across the talented Josiah Asare! Josiah Asare aka @ywnsimba is a High School Junior who has his own Youtube Channel where he uses his platform to uplift his peers and talk about taboo subjects through a variety of stories, vlogs and interviews with people in his community. I actually came across this young talent when I was scrolling through Instagram one day! His sister Jazmine (who is an amazing role model in our community and helped on our show as well) posted a video with him dancing to a song and literally put a big Colgate smile on my face! I don't remember why I was personally feeling down that day but coming across that 30 second video of him living his life joyfully made me want to live mine joyfully as well; I was instantly uplifted :)
After seeing that video and discovering that he was also a young creative, I had to have him on the show! For our first production with a LIVE audience, you can imagine things were a bit hectic in the studio but Josiah stayed calm, cool and professional the entire time. I was so impressed and really grateful that he took his time to co-host this super fun production and share his story with us.
Josiah is the youngest of five siblings and describes his family as very supportive, and encouraging. "They all want me to be great...They just inspire me to be successful and be more than I am."
Josiah shared with us some of his favorite episodes and talked about his aspirations to create deeper content on his channel, especially on topics such as self esteem and cultural issues.
"In my generation, I see a lot of hate going around. A lot of people want to fall into social media. A lot of young girls think they have to fall under the stereotype that you have to have either a bigger butt or something just to be approved in this world. Even for young guys, they think that they have to have the sneakers or the clothes. In my eyes, I feel like everyone should be themselves and a lot of people are afraid to be themselves...I want to spread positivity and actually show people that's okay to be yourself."
With social media being a tool that has affected our mental health in the new age, its so inspiring to have young intellects such as Josiah who are making it their mission to uplift their peers and remind them of their greatness. Josiah also shared with us his tips on how to have an EPIC summer! We think they're tips you can live by all year long! Check them out below!
***Josiah's Summer Tips***
1.) Always Stay 10 Toes Down, Never Fold
2.) Be Yourself
3.) Be Happy
4.) Y.W.N. (Make Sure You Will Never Give Up, you will always prevail)
Please be sure to follow and subscribe to Josiah's
Youtube Channel @ywnsimba
Watch his stories on Snapchat @SimbaTheDon508
We also had the blessing to hear and witness the talent of Isis Williams! This is another young talent I discovered on Instagram (thank God for this platform lol) when her mother posted a video of her singing at her recital and my spirit was uplifted! Her voice is so unique and holds so much natural soul that when you hear her, you instantly feel healed, feel good. The Boston Arts Academy (BAA) High School Junior told us that initially she didn't think she was a good singer until she was 12 years old and realized that she actually had a good voice. Its quite impressive to have such confidence at a young age when the pressures of digital media could be daunting to some. "I'm a person that is very sure of myself and I've always been myself and not worried about what other people think."
Isis named artists such as H.E.R., Beyonce and Summer Walker as some of her musical inspirations. She also discussed how she enjoys attending BAA because its not a competitive environment (like most would assume in an Arts High School) and that she feels completely supported. When asked if she wants to pursue singing as a career, the young talent says she has other plans. "My dream job would be either a Model or a Child Psychologist." Whatever this young queen decides to do, we fully support it; she's got greatness in her DNA! Isis also gave us some great advice for dreamers who may feel afraid or discouraged to go after their goals.
"If you really want to do it, just do it. Throughout your entire life, there's going to be a lot of people telling you not to do stuff because they don't think you're going to be good enough but if you really feel like you really want to do it, then it doesn't matter what anybody else thinks."
~Isis Williams
Finally one of the best moments of this show was when Isis performed LIVE! It was so beautiful to see our studio audience snapping along the acoustic version of her performance of Ibeyi's "Mama Says."
Watch here to witness how much joy was in our studio! Please be sure to follow Isis on Instagram @weird.hippy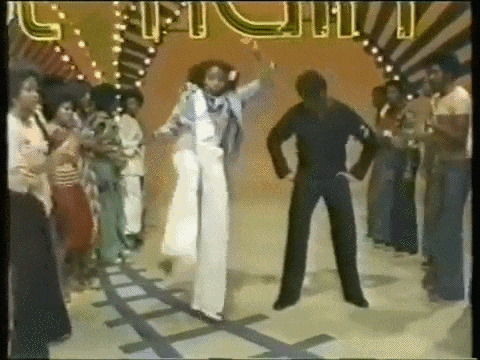 The show wouldn't be possible without our
****Favorite DJ & DOPE Dancers***
For our first LIVE audience, I didn't want them to just be sitting and observing, I also wanted to shine the spotlight on them! So I decided to pay a tribute to the legendary syndicated tv production, 'Soul Train' by having my own version with a modern twist! The 'Soul Train' show celebrated Black culture, community, music and the magic and talent of amazing artists! That's what we also aim to continue to do with ºFarenheight TV so it was only right to have our own 'Soul Train' dancers and they were so energe